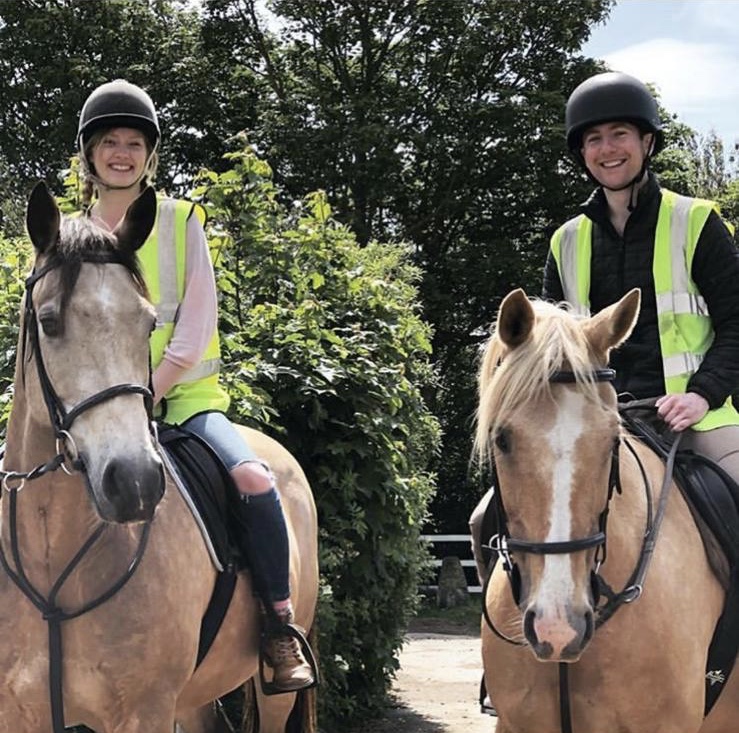 We regret we are unable to take bookings by email
PLEASE MAKE ALL BOOKINGS BY CALLING 077 482 538 99
July 4th 2020
Out of Lock Down (we hope).
We are now open for novices and beginner riders who will need more attention and help with mounting, dismounting, holding the reins etc.
We do ask please, that while we need to be in closer contact than for an experienced rider, although we have made all efforts to keep social distancing, non contact, PPE etc are in place for your and our safety, that you remain aware of yours and all the riders in your family or group temperatures, if there is a rise you let us know ASAP, if there is any chance of a usual and continual runny nose or tickly cough, which we understand all children get, you make sure they wear a mask for their short time on a pony please.
For all other riders that you turn your head away whilst we adjust your stirrups and tighten you're girth. It is hard to mark your social distancing on the floor Here at Hill farm, so we ask you take care to keep your own social distancing and remain outside of the stable blocks at all times. There are miniature and welsh ponies to see in the paddock which you are more than welcome to watch while we get your horse or pony ready for you.
Your safety on a horse will not be compromised during these testing times as we use an anti viral/bacterial spray on all parts of tack used and touched by riders. All hats are sprayed with a similar substance between uses. We will fill in your registration forms for you, one person or family will be in the reception/hat Room at any one time. Cars will be parked at a reasonable distance and only riders will get out, to avoid overcrowding in the yard, photographs can be taken as horses enter and exit down the drive.
Continue reading as there are points below which you will still need to know.
We are very much looking forward to seeing you all very soon, stay safe.

Thursday 18/06/20
POST LOCKDOWN  UPDATE
Its all a little bit different so please read carefully.

We have finally opened for experienced riders who are able to do their own stirrups and girth's and  will very shortly be opening for beginners and novices who will need a  little more help.  For all enquiries and bookings please call me on 07748253899
All Pony Club members and riders should head to our social media pages – follow us on Facebook Hill Farm Stables – Riding School and Pony Club Centre and instagram @hillfarmstables_iow  Check out the new photos and videos, also meet the new ponies Sam and his girlfriend Amelia.
<em>Corona virus update as of 17/06/20
We are following the government and BEF  guidelines with regards to Covid 19. Our hygiene Policy includes,  frequent  hand washing with hot water and anti viral/bacterial hand soap using disposable hand towels for drying and or using the gel in both the reception sign area as well as the washroom. We do ask all visitors to Hill farm to follow national guidelines using the above, changing your clothes before leaving the premises, wearing gloves at all times except to eat your lunch, to use your own grooming kit, to use your own or the disposable gloves provided for mucking out using the our utensils, your riding gloves for exercising horses, holding reins, lunge lines and ropes etc.
PLEASE COULD EVERYONE REFRAIN FROM ENTERING THE STABLES/TACKROOM/FEEDROOM/RECEPTION AREAS, PLEASE WAIT IN THE YARD AND WE WILL BRING YOUR HORSE TO YOU, MAKE THE MOST OF SUCH SERVICE!!!
Things to remember:-
1). When arriving or collecting we ask that only the riders should get out of the car, if you would like to watch the lesson, let others leave first, then quietly go through to seating area, remembering your social distancing.
2). Keep your Social distance at all times, use the hand sanitiser and wash your hands regularly using Hot water anti viral/bacterial soap and disposable hand towels.
3). Use only your own tabard, grooming kit,  hat if possible and don't forget to wear your gloves at all times.
4). Keep your own PPE clean, wash it all after each use, including tabard, gloves, jods and boots.
5). Please take the rider, plus other family members temperatures on the day and the day prior to riding to ensure no sign of disease. You should have no symptoms of Corona virus at all and no sickness in the family that involves, lack of taste or smell, a high temperature, headache, sickness and breathlessness. If so please call us to postpone your ride or lesson and self isolate for 14 days.
6). Refrain from touching your face or your mouth at all times use hand sanitiser if you do touch your face or mouth.
7). Masks only need to be worn if the child has nasal discharge that could easily transmit to others or any speech impediment where extra spray may cause a problem.
WELCOME TO HILL FARM RIDING STABLES AND PONY CLUB CENTRE
Hill farm stables has been established for more than 55 years and is  sadly now run by only two generations of the family.
---
Here at our family run yard, Hill farm stables, we have an amazing selection of 36 horses and ponies to cater for all ages and abilities from the total beginner to the most experienced of riders. We are based in the scenic West Wight with some beautiful countryside to explore with spectacular views of the beaches, river and the Solent from both sides of the Needles.
The original stable block is a purpose built victorian building with cobble stone flooring in a most attractive setting with sea veiws of the Needles to one side and Lymington Harbour to the other.
Hill Farm stables is insured with Howdens PLC – public and employers liability. We do however recommend you take out your own personal accident insurance.
---
License no – B1161D18F8318, licensed with IWC.
5* Rating and 3 year license granted from Iwc and DEFRA
Mr W.N. & Mrs J.M. Brown  – Proprietors